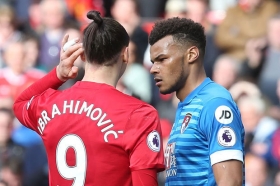 Bournemouth full back

Tyrone Mings

has been given a five match domestic ban by the Football Association, after being charged with violent conduct during the Premier League fixture at Manchester United.

Mings appeared to stamp on the head of Zlatan Ibrahimovic, who received a three game ban for elbowing Mings in retaliation shortly after. Mings received a larger ban than a standard violent conduct charge, as the FA said a three match suspension was "clearly insufficient".
The defender has claimed that the incident was accidental since the match, with his club supporting him on that statement. However, the FA have viewed it differently, deciding that Mings must be reprimanded for his actions. 
Bournemouth have struggled in the league since the New Year, and will now be without their left back for their next five fixtures. Those matches are against West Ham, Swansea, Southampton, Liverpool and Chelsea. If the Cherries fail to pick up some points during that time, they face the possibility of a relegation battle, which seemed so unlikely in the first half of the season.