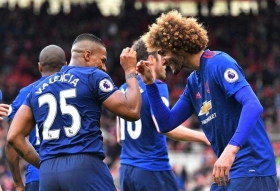 There was nothing odd about

Jose Mourinho

's team selection for their 3-1 victory over Middlesbrough on Sunday, with three centre backs, two wing backs, two central midfielders, finished off with three more attacking players. If anything, that is the most common formation that we have seen in the Premier League this season. However, by the end of the match, United's set up was much different. 

United took the lead through a Marouane Fellaini header on the half hour mark. That was doubled by a stunning Jesse Lingard strike after 62 minutes, which gave 'Boro goalkeeper Victor Valdes no chance. With two goals scored, Mourinho was happy that three points were in the bag. He replaced the attacking Juan Mata with defender Marcus Rojo, effectively creating a six man defence. 
Middlesbrough got themselves back into the game with twelve minutes left, with Rudy Gestede getting on the score sheet. This prompted the arrival of Anthony Martial in place for Jesse Lingard. 
After a slip up by Valdes in the dying stages, Antonio Valencia sealed the result for United. Marcus Rashford left the pitch immediately after as the final substitute, Matteo Darmian, entered the field. This left the Red Devils playing for a short time with a solid defensive formation of 7-2-1, with Young, Rojo, Jones, Smalling, Bailly, Darmian and Valencia all on at the back at the same time in order to block out any late 'Boro comeback.