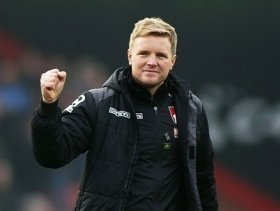 Bournemouth's footballing progress continues, with them securing their highest ever top flight finish this season. Not content with that, the club are preparing a busy summer, which could include a £30 million swoop for two out of favour Chelsea players. 

The first of the two is Asmir Begovic. The Bosnian goalkeeper has only ever been a backup since joining the club, and it appears that he is keen to get first team football. The Guardian reports that this is likely to be a straight forward deal, which looked like it was going to be completed last January. Chelsea were unable to sign a replacement in time, so it did not go through, but Bournemouth are still interested in signing him. It is believed that Begovic will cost around £12 million, and could be the second goalkeeper leaving Stamford Bridge, with rumoured interest in Thibaut Courtois continuing. 
The second part of the deal would be for Dutch defender Nathan Ake. The twenty two year old, who can play both centre and full back, had a recent loan spell with Bournemouth, and Eddie Howe would like to bring him back on a permanent deal. Chelsea are said not to be as interested in the transfer, but Ake's ambition for regular football may not be something that Antonio Conte can offer him. Highly rated Ake is said to be valued at £18-20 million, which would take the double signing up to the region of £30 million. 
If The Cherries can pull these signings off, along with the rumoured deals for John Terry and Jermaine Defoe, Bournemouth could be a force to reckon with in the new campaign.