">
Singapore vice-captain Hariss Harun hopes that this month's friendly against Argentina is the first in a series of high-profile home matches against big-name opponents.
The June 13 showcase against the FIFA No. 2-ranked nation comes after Singapore play Myanmar (friendly, June 6) and Chinese Taipei (Asian Cup qualifier, June 10).
The first two games are at Jalan Besar Stadium, but the match against Lionel Messi and co. will be at the 55,000-seat Singapore National Stadium.
After Friday's official announcement of the match to commemorate the 150th anniversary of Singapore football, Hariss said he and his teammates will embrace the challenge, and show no fear.
"We might concede a few goals… but look at Thailand, they are reaping the benefits of playing better teams regularly," the 26-year-old told The New Paper.
It will be only the eighth match that Singapore have played at the National Stadium since its opening in 2014. The majority of those games have been non-competitive affairs, producing only three wins for the home nation.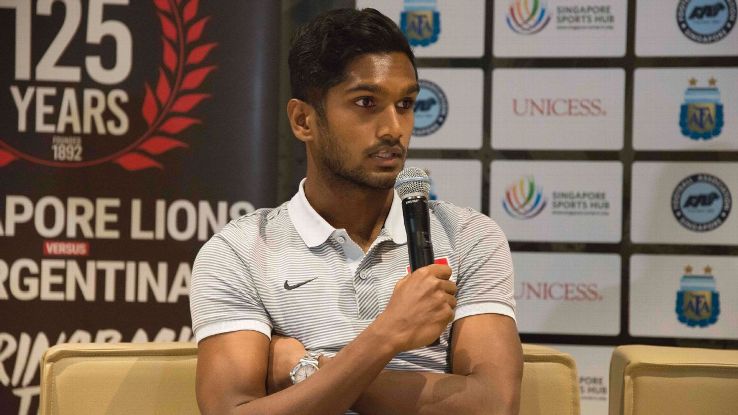 However, FAS vice-president Bernard Tan says he wants to turn the Sports Hub into a cauldron for the Lions.
"I share the optimism to have more high-quality opponents," he said.
"Hopefully, we can get more quality matches in, both as an avenue to promote football here, and for the national team to improve and progress to the later stages of international competitions."
Tan added that Singapore would benefit from having a dedicated training base, instead of using Geylang field or Jalan Besar Stadium, for regular practice sessions.
"Another key factor would be having a National Training Centre that has a similar surface [to the Sports Hub pitch] so that the national team can be more familiar, and have more of an advantage."
In their last match on the National Stadium, Singapore were held to a 0-0 draw in a friendly against Malaysia last October.
There will almost certainly be goals in the Argentina game, but head coach V. Sundramoorthy hopes that familiarity with Singapore's heat and humidity will help the home side in the second half.
"I remember when we used to play against big teams like Manchester United and Bayern Munich. We lost to United, but beat Bayern 2-1 in 1983," Sundramoorthy said.
"Argentina could struggle after 45 minutes with the weather, and we can capitalise.
"I believe the boys will fight until the final whistle."
Follow @ESPNFC on Twitter to keep up with the latest football updates.